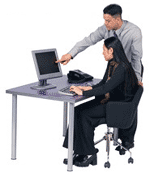 SiteYourself's management control panel is a useful and straightforward tool that gives you administrative control of your site. With features such as account manager, online service ticket requesting, suppport forums among others, you can take control of your site! We provide all the applications you need in one place and make them easy to use. Dynamic, context sensitive help menus are always available to help you to control all aspects of your account.
Below is more information on currently available tools in the management control panel...and we're always adding new functionality to give you more control over your site!
ACCOUNT CENTER

Account Management
This provides account and service information, allowing you to update your profile and request additional services for any domains in your account.

Billing
Here you can see a summary of your previous, as well as current invoices. For your convenience you can pay your bills directly online.

User Manager
You can add/remove/manage users that have access to your account. Permissions can be set for each user, restricting them to only the sections you want them to have access to.
SITE MANAGER
For customers with SiteYourself:WEB service, our Site Manager gives you complete control over your site. Through an intuitive wizard you will be able to design the visual style of your site, as well as manage all of the site's content. You have the ability to add unlimited pages to your site, with real-time control over each page's design and content.
HELP DESK

Trouble Tickets
You can submit trouble tickets to notify us of problems or issues with your service. All tickets are processed immediately. We try to resolve problems withing 3 hours of the ticket submission.

Online Support
For your convenience, we have an online forum where you can post questions and read answers from other users. This can be a useful resource for information. Additionally we have real-time AOL Instant Messenger support available.

Frequently Asked Questions
We have a growing library of FAQs to aid you with some common service and configuration questions.